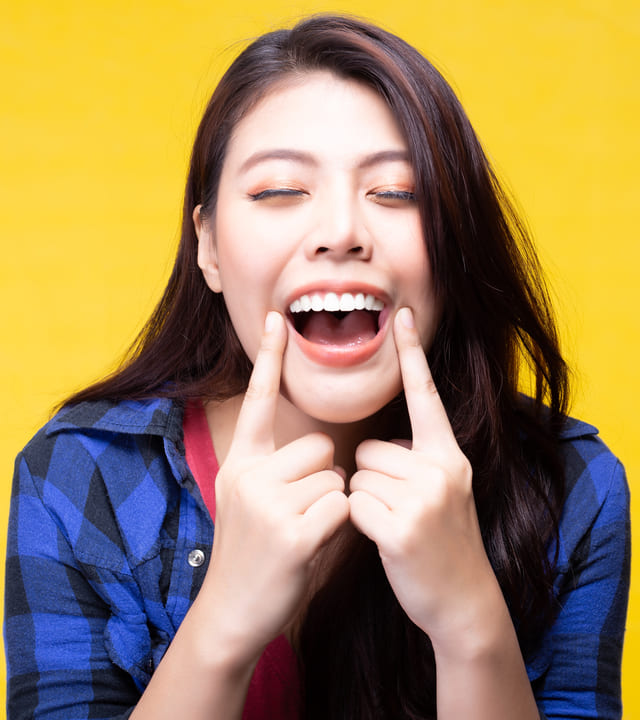 Periodontics Gums Treatment in Grand Central & Rockefeller Center, NY
Your dentist will fully explain the many options available to patients today. Advanced techniques include non-surgical treatment of gum disease, replacement of teeth using the latest implant technology and gum or bone replacement by grafting. Our emphasis is prevention and education.
Gum disease is swelling or soreness of the gums (the soft tissue) around your teeth. It is caused by the bacteria in plaque, a sticky, colorless film that forms on your teeth. The plaque bacteria have toxins that inflame the gums.
The signs of gum disease are not always easy to see and can be painless. The earlier gum disease is caught, the easier it is to treat. That is why it's important to see your dentist regularly.
What is a Periodontist?
Periodontists are dentists who specialize in the diagnosis and treatment of periodontal (gum) disease. They have had extensive training with two additional years of study after dental school. As specialists they devote their time, energy and skill to helping patients care for their gums. A periodontist is one of the eight dental specialists recognized by the American Dental Association.
Why Is Your Dentist Referring You To A Periodontist?
Your dentist has determined that your gums require special attention. The periodontist and dentist work together as a team to provide you with the highest level of care. They will combine their experience to recommend the best treatment available to you while keeping each other informed on your progress. By referring you to the specialist, your dentist is showing a strong commitment to your dental health.
Gum Surgeries
Periodontal or gum disease happens when bacteria gets below the gum line and the attachment between the gum and tooth is lost. Three out of four Americans have some form of periodontal disease and only 3 out of 100 will ever get treated before its too late.
Gum disease is a silent, chronic, painless and communicable bacterial infection that often goes undetected or ignored until severe gum and bone destruction is unbearable and no longer able to be ignored. Left untreated, gum disease can cause tooth loss and traditional treatment can hurt.
The latest conservative gum therapy uses a laser. The laser gently disinfects and evaporates diseased tissues from around the tooth and inside the gum pocket. This treatment interrupts the bacterial destruction of the tissues and bone, giving the gum pocket a chance to heal. Systematic repeated visits, generally 2-8, allow the gum pocket to be disease-free and sometimes allow tissues to reattach to the pocket to a normal or near-normal depth. This new laser therapy is gentle, less painful, and has a quick recovery. While surgery may still be indicated for severely advanced periodontal cases, laser therapy is a much more conservative, effective and comfortable option for beginning to moderate periodontal cases.
Scaling and Root Planing
The objective of scaling and root planing, otherwise known as conventional periodontal therapy or non-surgical periodontal therapy, is to remove or eliminate the etiologic agents which cause inflammation: dental plaque, its products and calculus, thus helping to establish a periodontium that is free of disease.
Periodontal scaling procedures include the removal of plaque, calculus and stain from the crown and root surfaces of teeth, whereas root planing is a specific treatment that removes the roughened cementum and surface dentin that is impregnated with calculus, microorganisms and their toxins.
Scaling and root planing are often referred to as deep cleaning, and is performed using a number of dental tools, including ultrasonic instruments and hand instruments, such as periodontal scalers and curettes.
The preparation of your mouth before the placement of a prosthesis is referred to as pre-prosthetic surgery.
Some patients require minor oral surgical procedures before receiving a partial or complete denture, in order to ensure the maximum level of comfort. A denture sits on the bone ridge, so it is very important that the bone is the proper shape and size. If a tooth needs to be extracted, the underlying bone might be left sharp and uneven. For the best fit of a denture, the bone might need to be smoothed out or reshaped. Occasionally, excess bone would need to be removed prior to denture insertion.
One or more of the following procedures might need to be performed in order to prepare your mouth for a denture:
bone smoothing and reshaping
removal of excess bone
bone ridge reduction
removal of excess gum tissue
exposure of impacted teeth
We will review your particular needs with you during your appointment.
Crown Lengthening
Crown lengthening is a surgical procedure performed by a dentist to expose a greater height of tooth structure to properly restore the tooth prosthetically. This is done by incising the gingival tissue around a tooth and, after temporarily displacing the soft tissue, predictably removing a given height of alveolar bone from the circumference of the tooth or teeth being operated on. this procedure may be referred by your general dentist to our periodontist, Dr. Wayne Kye.
Before and After

Dental Cases
Full Mouth Cosmetic Reconstruction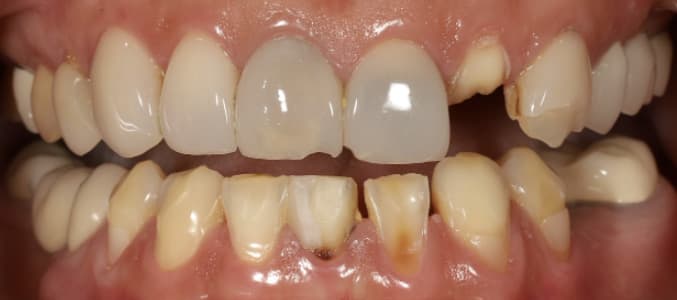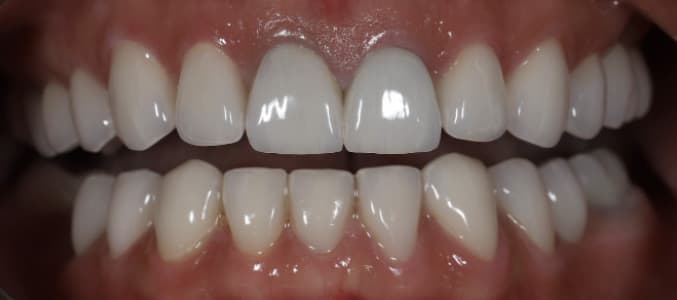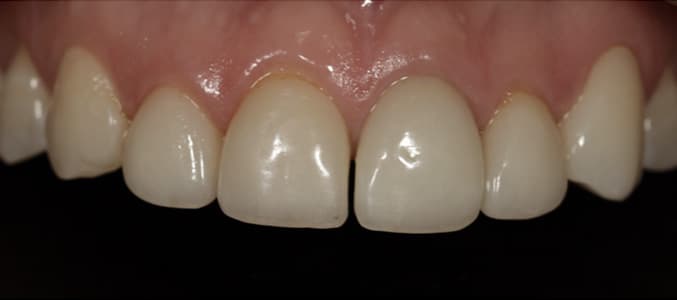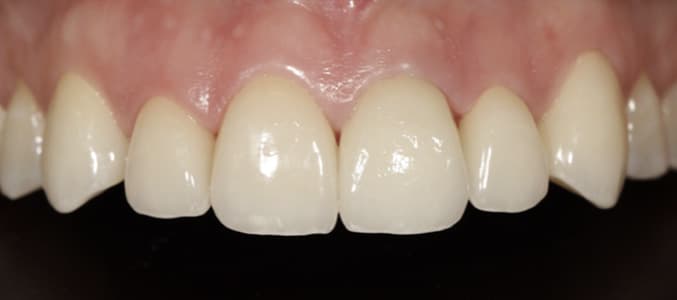 Water Laser Decay Removal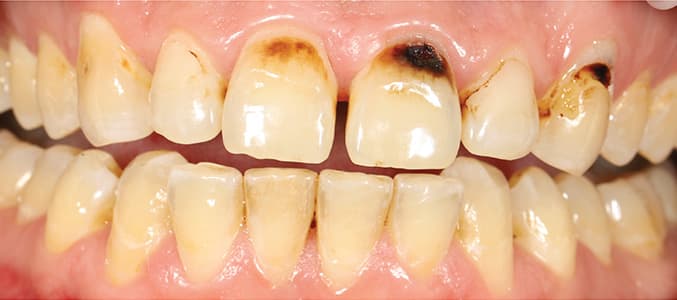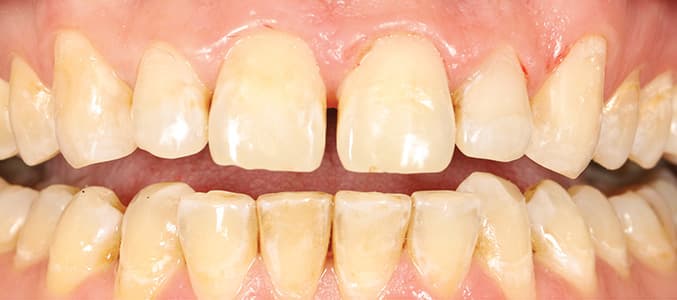 See how SLimDental have transformed the smiles of people like you.