This is only a partial smile makeover to cover over mismatched shapes and color of her teeth due to past dental problems before she found slimdental. She hated the discoloration most on her teeth and porcelain crowns and veneers on 4 teeth look natural and beautiful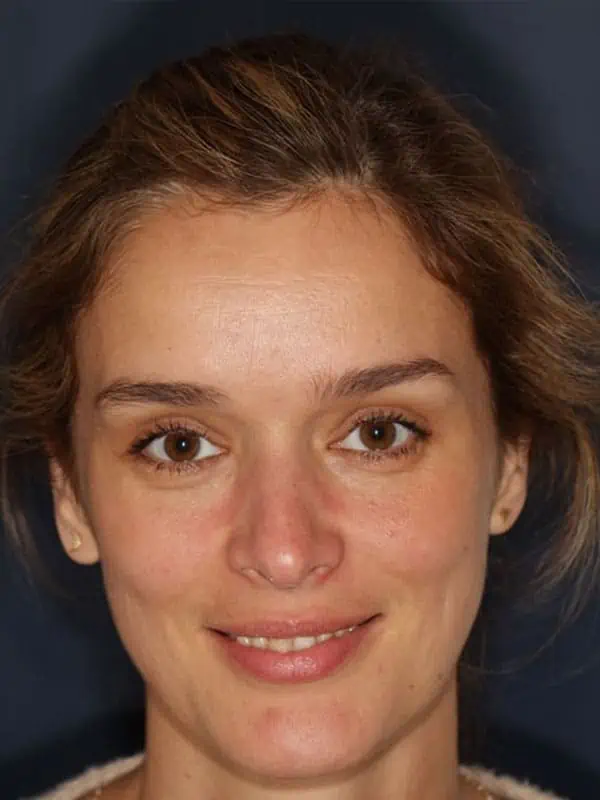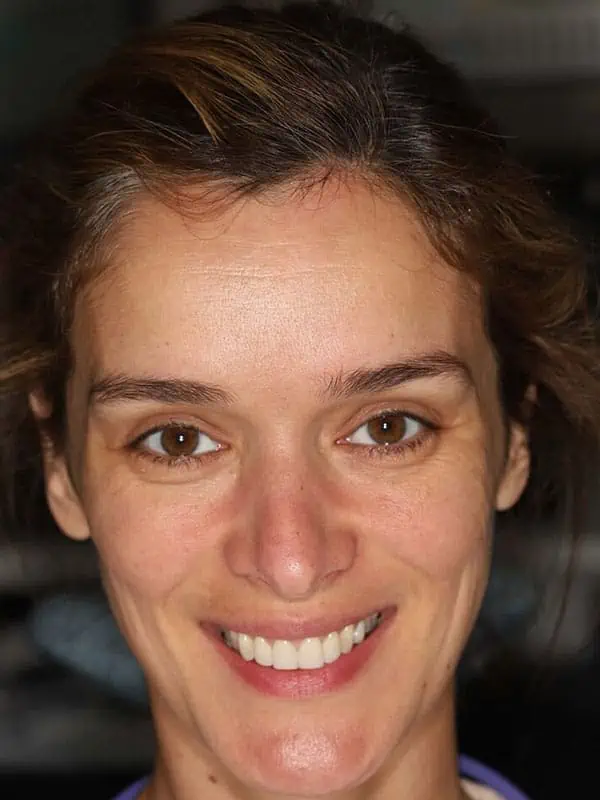 Bicycle Accident Repair
For 17 years, he has been coming into the office for routine check-ups and cleanings until on day last fall he suffered from an ebike accident where one front tooth was avulsed and others were chipped.  Over the course of a year he had root canals, dental implants and crowns to restore the beauty and health of his teeth to new heights.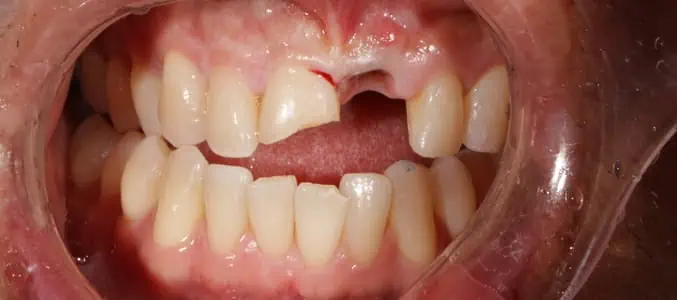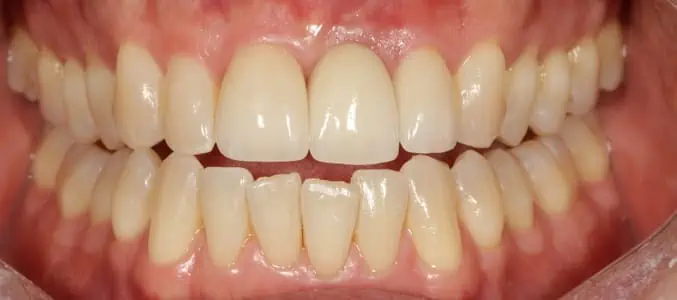 Partial Smile Makeover
This procedure was requested to cover over mismatched shapes and color of her teeth due to past dental problems before she found slimdental. She hated the discoloration most on her teeth and porcelain crowns and veneers on 4 teeth look natural and beautiful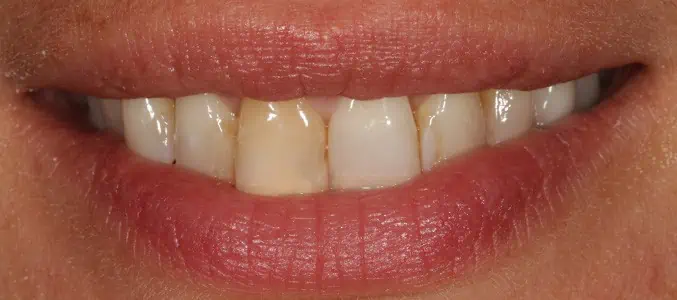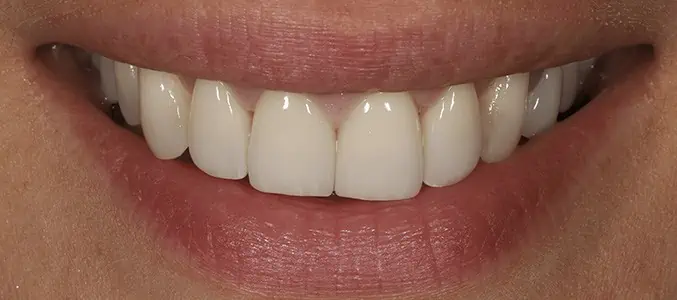 Full Mouth Cosmetic Reconstruction
Acid erosion and malocclusion (a "bad bite") impacted this patient's health and smile. It resulted in the breakdown and destruction of her teeth, as well as the collapse of her bite. In just a few visits, this patient was able to restore the health and beauty of her mouth.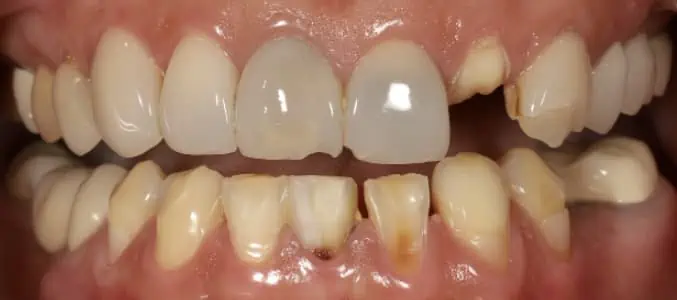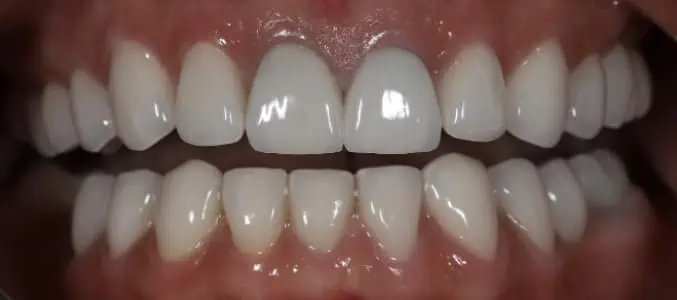 Full Mouth Cosmetic Reconstruction
Tetracycline is a specific type of antibiotic that fights intense infections. This patient lived most of his life with tetracycline staining on his teeth. Although this is a known consequence of this antibiotic, the patient continued to take the drug to save his life from an acute illness at a young age. As seen in the "before" photograph, the staining affected all of his teeth. The patient was given a full mouth cosmetic reconstruction and a beautiful smile.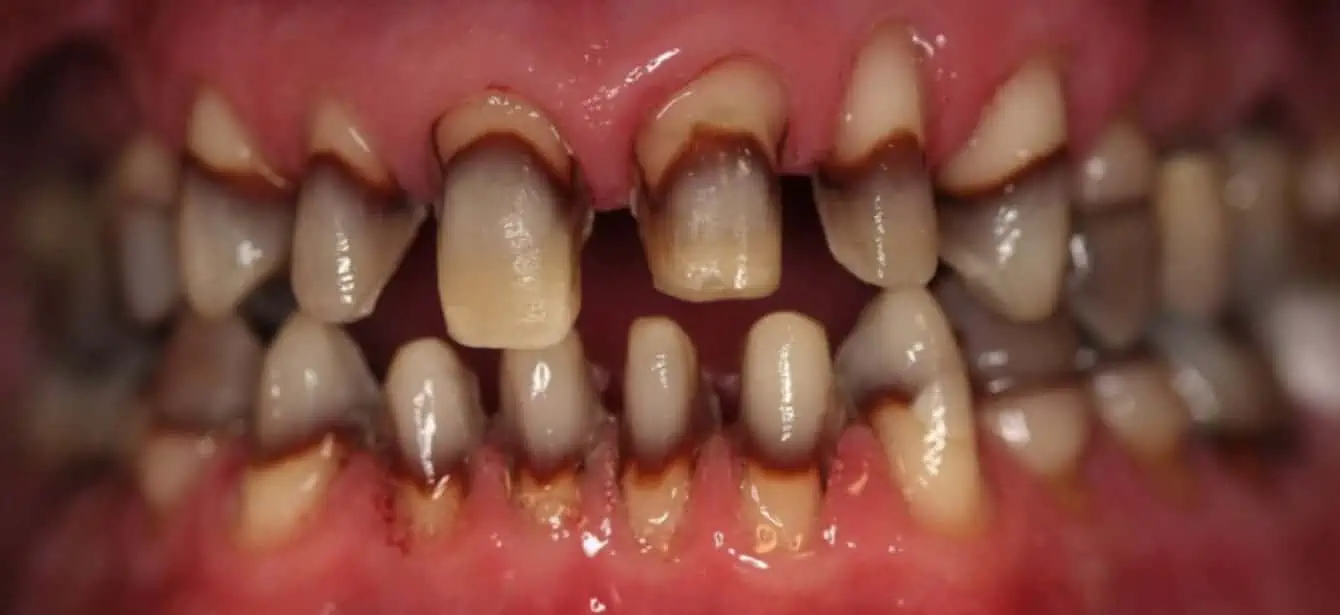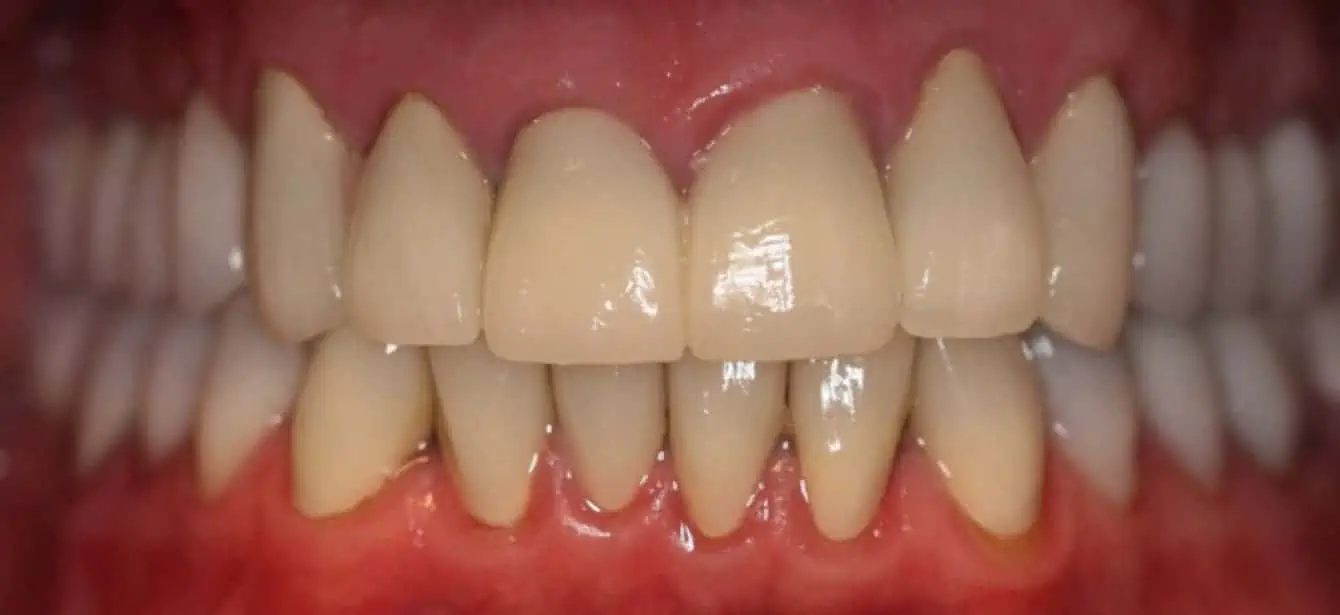 Porcelain Veneers
This patient was unsatisfied with her veneers for a very long time. She came into our office and decided to replace her already existing porcelain veneers to get ready for a very big day—her wedding.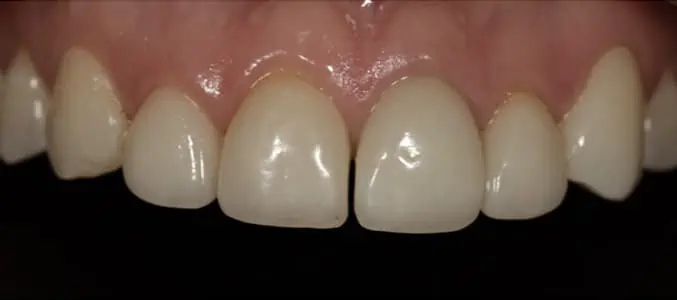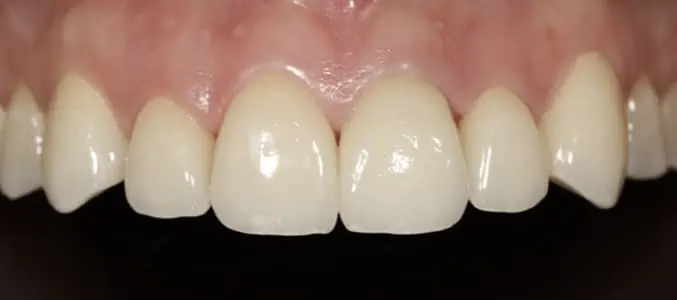 Porcelain Crowns
The goal for this patient was to provide dentistry that was undetectable. Crowns and fillings give restorations that look and feel like natural teeth. This is a very reliable solution for major dental problems caused by accidents, diseases or wear and tear.


Porcelain Veneers
This patient had a tooth-arch discrepancy leaving spaces between most of the front teeth. Braces would not result in small teeth being pushed together and altering the natural biology of the tooth spacing within the jaw. After much research, this patient elected to close the spaces with porcelain veneers creating proportionately sized teeth as well as a brighter/whiter color. Natural teeth were whitened and veneers were matched to the new lighter tooth shades.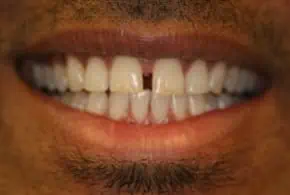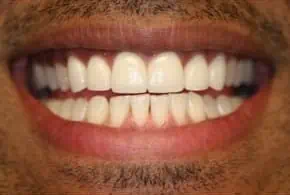 Porcelain Veneers
Porcelain Veneer Restorations closed the unwanted spaces between this young lady's front teeth while keeping the natural shading and color of her original dentition, according to the patient's desired outcome.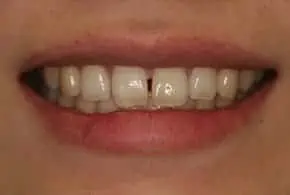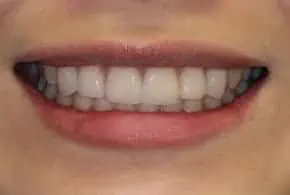 Replacing porcelain-fused-to-metal crown
This is before replacing a porcelain-fused-to-metal crown on the upper right central incisor (upper front tooth on your right). To match the two upper front teeth is considered the hardest thing to do in dentistry. Size, shape, the color of the tooth, and color of the gums as a result of the underlying metal all need to be addressed. The New crown (right) on the upper right center tooth is now restored to its natural appearance.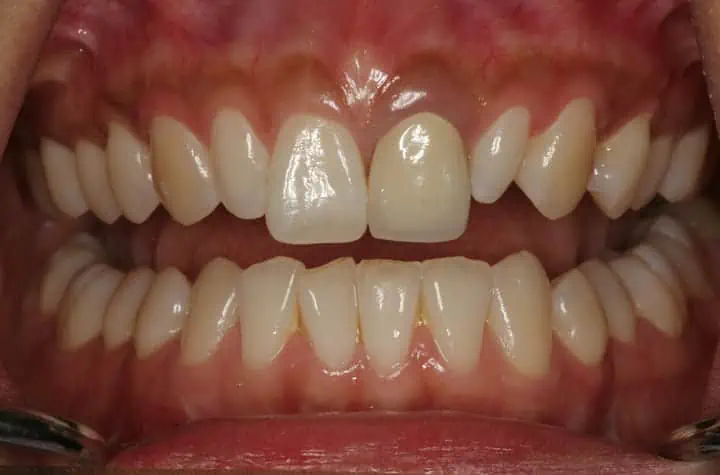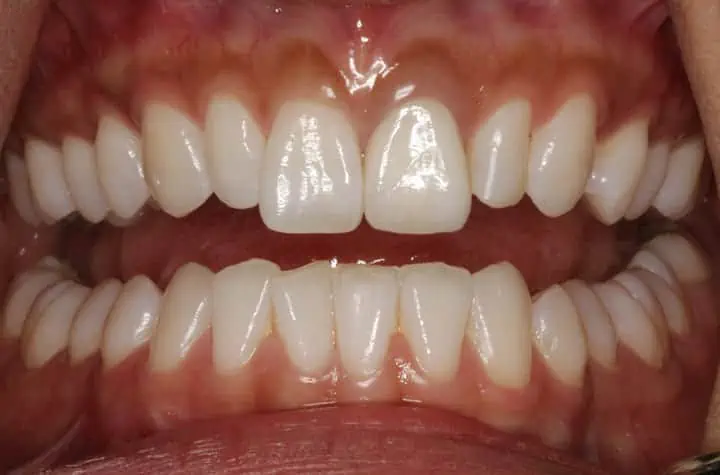 Single Porcelain Veneer
This fractured tooth was restored with a porcelain veneer. Matching the two upper front teeth is extremely difficult.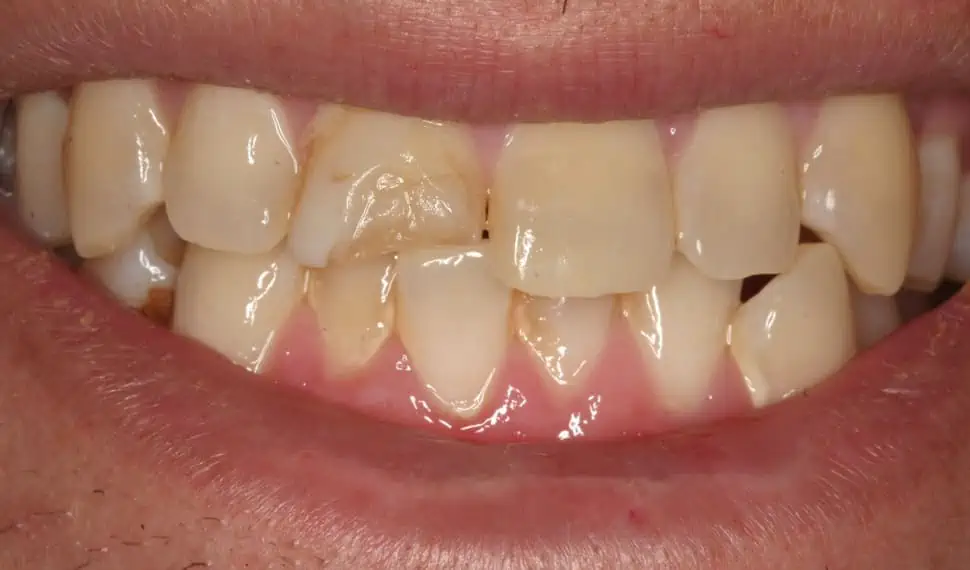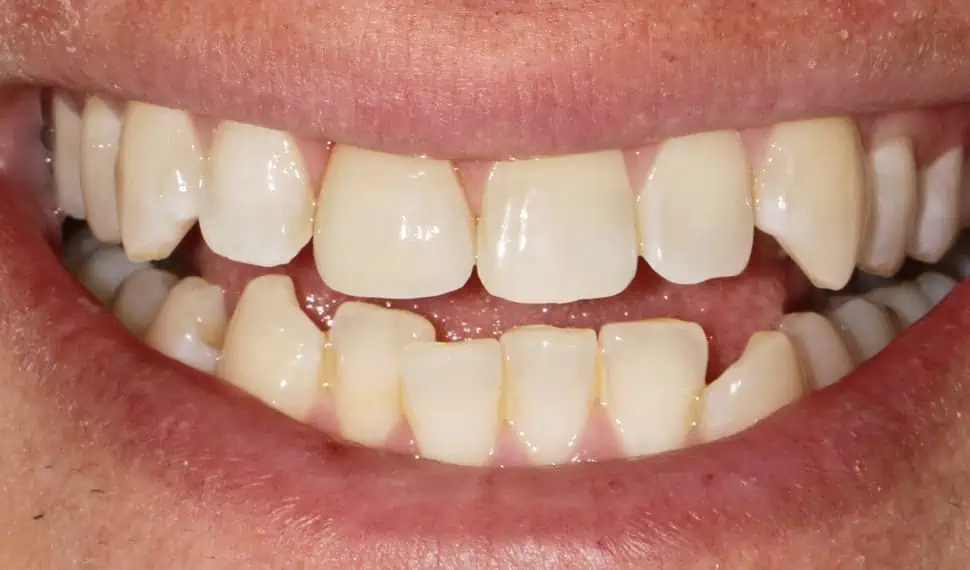 Water Laser Decay Removal
This longstanding decay has turned unsightly but the thought of getting shots and getting drilled has been an excuse not to have work done on his teeth. In one quick pit stop using a water laser, the unwanted decay was removed without undue pain from getting a shot or the shrill of the drill on his grills. There is no contact, the laser leaves a clean sterile surface and tooth-colored composite fills in the decay to erase the years of neglect. The laser doesn't spread heat or vibration and is so focused that most patients feel no pain and leave with a fresh new smile. Ask us about laser dentistry and how it can help you.